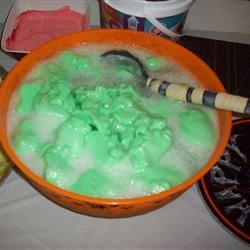 I was browsing online for a quick Halloween themed recipe that I could surprise my hubby with since we both work that day and won't see each other. All three recipes courtesy of
AllRecipes.com
On this quest I found 3 quick and easy recipes that you still have time to do!
The first recipe is
Green Grog
. 25 8oz servings
Prep Time: 7 minutes
Cook Time: 7 minutes
Ingredients
2 (12 fluid ounce) cans frozen limeade concentrate
2 (12 fluid ounce) cans frozen lemonade concentrate
2 (2 liter) bottles lemon-lime flavored carbonated beverage
1 (750 milliliter) bottle rum
2 quarts lime sherbet
Directions
In a large pot, combine limeade, lemonade and lemon-lime soda. Stir in rum (add more to taste if desired.) Mix in the lime sherbet.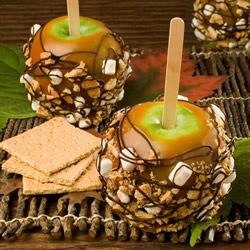 The second recipe is
S'mores Apples
. 6 servings.
Prep Time: 25 minutes
Cook Time: 10 minutes
Ingredients
6 Granny Smith apples
6 wooden sticks
1 (14 ounce) package individually wrapped caramels, unwrapped
2 tablespoons water
1/2 teaspoon vanilla extract
1 1/2 cups miniature marshmallows
1 1/2 cups crushed graham crackers
1 cup semi-sweet chocolate chips
Directions
Insert wooden sticks 3/4 of the way into the stem end of each apple. Place apples on a cookie sheet covered with lightly greased aluminum foil.

Combine caramels and water in a saucepan over low heat. Cook, stirring often, until caramel melts and is smooth. Stir in the vanilla. Dip each apple into the caramel and gently run apples around insides of saucepan to scrape off some of the caramel. Scrape excess caramel from the apple bottoms using the side of the saucepan.

Combine the miniature marshmallows and graham crackers on a dinner plate. Roll the apples in the mixture to coat. Place on the aluminum foil and chill.

Put the chocolate chips in a microwave-safe bowl. Cook in the microwave for 30 second intervals, stirring between each, until melted and smooth. Drizzle over the apples and return them to the refrigerator until ready to serve.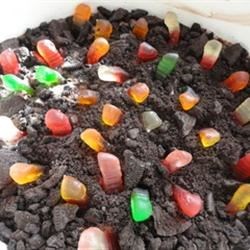 The third recipe, which is the one I might make on Monday is
Mud and Worms
. 4 servings.
Prep Time: 10 minutes
Cook Time: 15 minutes
Ingredients
12 chocolate cream-filled sandwich cookies
1 (3.9 ounce) package instant chocolate pudding mix
2 cups milk
1 (3 ounce) package gummy worms candy
Directions
Place the chocolate sandwich cookies into a resealable plastic zipper bag, and crush with a rolling pin into crumbs. For a more mudlike appearance, untwist the cookies and scrape off the creme filling before crushing cookies.

Whisk together the chocolate pudding mix with the milk in a bowl, stirring for 2 minutes. Sprinkle about 1/3 of the crushed sandwich cookie crumbs into the bottom of a serving bowl, and spoon the chocolate pudding over the crumbs. Smooth out the top of the pudding, then top with the rest of the chocolate cookie crumbs to resemble dirt. Poke gummy worms halfway into the dirt. Refrigerate until serving.
These all look delicious. Are you planning to cook or prepare any treats this Halloween?