It is important to show the world the charms of handcrafted items, and I plan to do this one Etsy artist at a time. Today I feature Jessica from Orlando. She makes beautiful charms and jewelry pieces (without molds!) from clay. She happily fulfilled my request of a custom order for a lime green dragon and a panda drinking a strawberry smoothie! She's very creative and she is skilled at what she does--don't be afraid to ask her for a special request!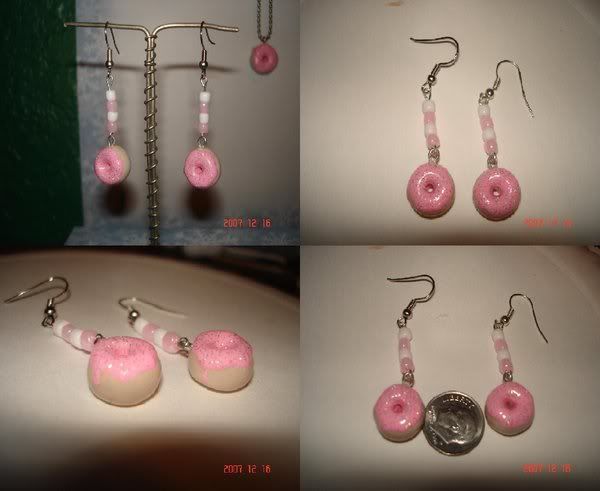 Below you can read the artist's interview:

1. What is the first memory of crafting that you can recall?
I first started making charms about two years ago. I needed some jewelry for my cosplay but it was really expensive so I decided to try and make it myself.

2. What do you specialize in?
I specialize in making clay charms. I make necklaces, earrings, key chains, cell phone straps, hair accessories, and more.

3. What made you decide to open up a shop on Etsy?
I was selling some of my charms on Deviantart but I wanted to try and sell more but ebay takes so much of your money so I started looking for an alternative and thats when I found Etsy!

4. What are your hopes for the future?
I hope to keep making and selling lots of charms. I hope to get more commissions, they are my favorite! People request things that I would have never even though of.=]

5. What are some of your favorite past times?
Making charms of course, Cosplaying and attending conventions, watching anime, reading manga, and spending time with family and friends.

6. Try to sum up your workspace in as few words as possible.
I work on a small wooden table with drawers underneath that I keep all my paint, tools, and jewelry finding in. I have a small silver lamp on my table to help me see and two storage containers full of beads.

Is there anything else you would like to add?
My hands are my greatest tool. I never use molds to make my charms.

How can people get in contact with you?
They can send me a note on my deviantart page: http://stevoluvmunchkin.deviantart.com/

Or email me at sweetkiss87@msn.com
Jessica's Etsy Page: Chibis Charms

Picture of stevoluvmunchkin: